It's been great to be able to get back down to BRGP and see so many others appreciating their local wildlife. A few wildlife highlights to share, please let us know what you've spotted.
Thanks  Steve Parkes
Otter
We have had a few sightings of otter and otter spraint. With the water levels so low if you do see one there's a good chance you will get a good view rather than a head popping out of the water.
Birds We had a decent count of over 50 species in and around the reserve in May, thanks to Steve Amos for these. Whilst we don't have a sand martin colony opposite the site there are colonies upstream and downstream. The kingfishers have bred with reports of young being fed and a lot of calling. Its been a good breeding year for many birds including blue/great/long tail tits with lots of boxes occupied and family groups. Blackcaps and other warblers are also likely to breed so keep an eye out for juvenile birds. We also have young goldfinches and wrens and maybe 2 pairs of bullfinch ( 1 on the reserve near the glades we cleared 2 years ago and a pair on the angler's side) it would be great to get a breeding record. Keep an eye out for breeding tree-creepers on the large willows. There have been barn owl sightings but I don't think there is an egret around may be due to lack of water in the beck opposite.. or maybe in search of a mate?. On the river, you can hear noisy oystercatchers and common sandpipers as well as mandarin ducks and goosander. The common birds also a delight  – the chocolate brown head of black-headed gulls and song thrushes smashing up snails.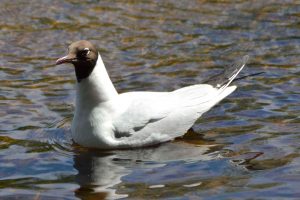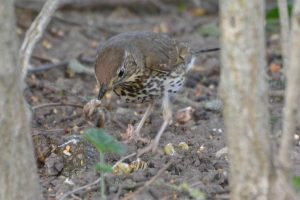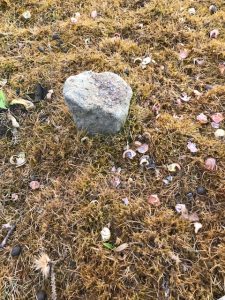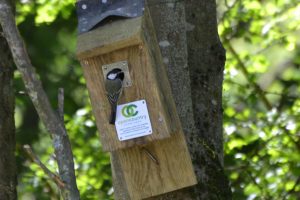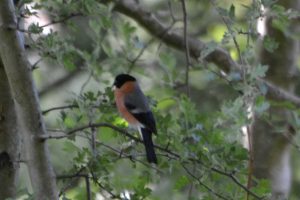 Plants The main mini meadow is looking great will be coming to it's best mid-June with the fencing making all the difference re rabbit protection. The other fenced patches have also had some success Only time will tell how many saplings we planted earlier in the year will survive the drought. The north lawn is now resembling a Caribbean cricket-wicket albeit an uneven one!. Hopefully, the site will get a few heavy showers in June to give the orchids a boost though just as we saw when they were doubling each year it looks like they are halving – so now back down to dozens rather than 100's. I was pleased to discover quite a few elm saplings towards the far end – some we have planted and others self-seeded, so some hope for white-letter hairstreak.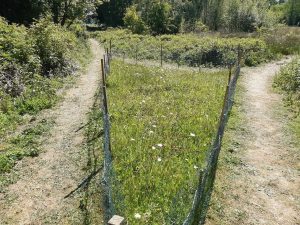 Fish The river has plenty of minnows which are easy to spot and a large fish trout or grayling? jumping. The old ditch has no flow for only the 2nd time ever though there is some water and minnows at the ramson end.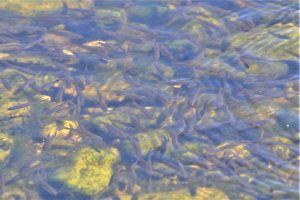 Butterflies /Insects We have had good records of Orange tips and Brimstones from Mark Hockey who goes down most days, 3 male Common Blues and a Large Skipper emerged in the last week of May and are feeding in the mini meadow along with Cinnabar moths. There are also  3 Speckled wood which is a bit disappointing compared to the numbers we used to see. Hope to get some records of Small Copper soon. Also fleeting views of Banded Demoiselles.